Sunday 27th August
August 27, 2017
Sadly on Thursday our York runners failed to impress in their races and possibly it was just a case of the ground not drying up enough for them. We started the afternoon off with RONALD R who travelled nicely through the early part of the race and when asked for his effort, he could not pick up on the ground. He deserves another chance back on a sound surface and is due to be gelded which we think will also help him as he does have ability.
RONALD R
Later on the card CHEVAL BLANCHE failed to make an impact in her race. She is a filly who likes to be kept handy and after a sluggish start she had to make up her ground to challenge and had little left for the closing stages of the race.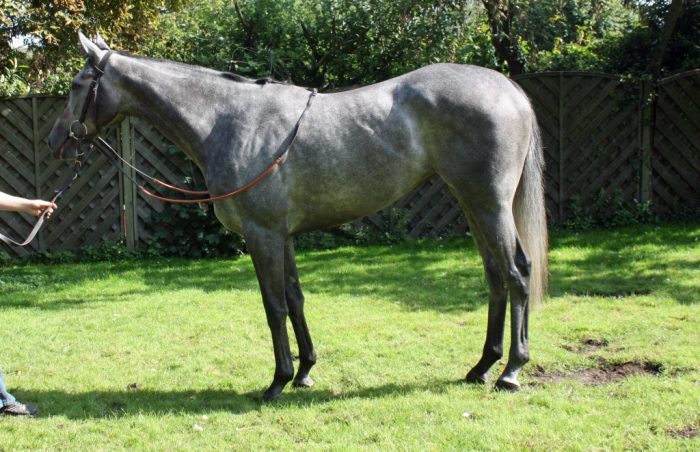 CHEVAL BLANCHE
On Friday GIRLS TALK ran a nice introductory race at Newmarket. She travelled well throughout the race and when asked for her effort she looked to get tired when hitting the rising ground and started to slightly hang. She will come on a lot for the run and looks a nice prospect for the back end of the season.
GIRLS TALK
Yesterday we started the afternoon off at York where WINSTON C took his chance.  He stayed on nicely enough without trouble the winner, but it was a competitive handicap on only his seventh start. I am sue he will be winning again in easier company.  In the evening we were delighted to win with FABRICATE who had recorded a career-best when winning a 16-runner handicap at Goodwood 25 days ago. He was stepped up in group class and dropped back in trip, which seemed to suit him ideally and he stayed on really nicely to win a shade comfortably. He is a progressive gelding, who has really come to himself this year and he could head to either Maisons Laffitte or Chantilly for a similar contest.
Today we start the afternoon off at Yarmouth where FIRST DRIVE takes her chance. She did not enjoy the soft ground on her nursery debut at Newmarket after winning her maiden nicely. Hopefully she can bounce back to form here where conditions should be more in her favour.  Later in the afternoon we head to Beverley where course and distance winner MAORI BOB takes his chance. He won nicely at the track last time and appears to have come out of that race in good form. Hopefully he can be competitive again. We round off the day at Goodwood where THREE DUCHESSES takes her chance. Conditions went against her on her last start having gone into that race on the back of two wins at Catterick and Yarmouth. She should be more at home with things here and it would be great to get another bracket by her name.
Tomorrow we start the afternoon off at Epsom where CHICKPEA takes her chance. She ran much better at Salisbury last time and hopefully will keep progressing. At Ripon our only other runner of the day is DREAM MACHINE. He has been so consistent this season winning or always finishing in the frame and it would be nice to get another win by his name as he is getting punished for his consistency.
On Tuesday we head to Ripon with the three declared runners. We start the afternoon with REVIVED who ran a nice race on her debut a Goodwood. She got a little bit buzzed up after that and will run wearing a hood which she has been going out in at home and it seems to do the trick in making her settle much better.  Later on the card RAYS THE MONEY takes his chance and he took a bump on his last start at Newbury and never really got into the race after that. He is quite a quirky character, but has ability and hopefully things will go in his favour here. We round of the day with THEGLASGOWWARRIOR who has been stepped up in trip. He is another who has been consistent this year, but needs to start turning some of these place efforts into some wins. We think he should be suited by further and hopefully he will finally have his day.
Today the horses worked on the Watered Gallop
Left to right – Becuna, Nurse Nightingale and Salamah
Artarmon and Best Blue (Orange Jacket)
Taurean Star and Sacred Act (Red Jacket – Jamie Spencer)
Left to right – Freebe Rocks (Red Hat), Taurean Dancer (Black Hat) and Immortal Romance